Awards & Honours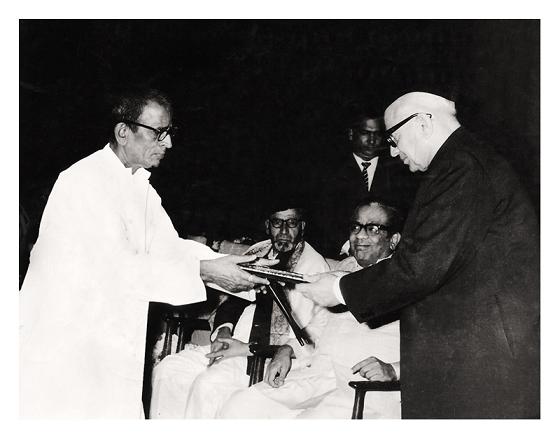 Photo: Pandit Gajananbuwa Joshi receiving Sangeet Natak Academy Award at the hands of Hon'ble Vice President Dr. Gopal Swarup Pathak, P.L. Deshpande sitting behind.
Throughout his life, Gajananbuwa was invited to participate in almost all the major music conferences, festivals and events all over India. In addition he was also invited to go to Nepal and Pakistan to take part in Music Programmes.
Awards
Buwa received the following prestigious awards for his contribution to Indian Classical music both as a violinist and a vocalist
Sangeet Natak Academy award in the year 1972.
An award given in the year 1982 by the ITC Sangeet Research Academy, a Trust promoted by ITC Limited, Calcutta.
Tansen Sanman given by the Government of Madhya Pradesh in the year 1985.
Buwa: From 1956 to 1970
Buwa worked as a Professor of Music at the Faculty of Music, University of Mumbai in the year 1970.
He also worked as a Music Advisor to All India Radio from 1956 to 1968 at Mumbai, Indore and Lucknow Radio Stations.
His autobiography and his compositions for Violin written by him was published in the form of a book by the renowned Mouj Publishing House in Mumbai.