Gajananbuwa a Violinist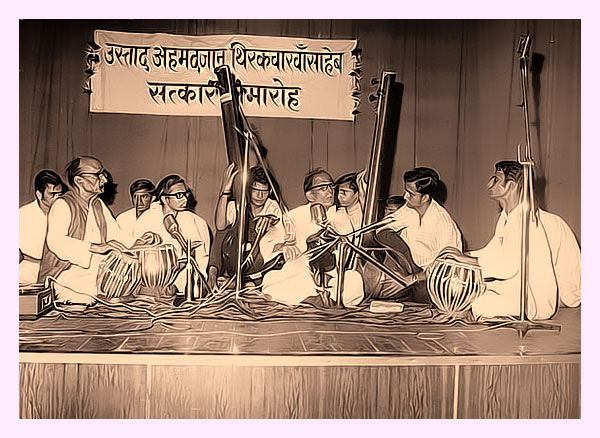 Pandit Gajananbuwa and Ustad Ahmadjan Thirkhawa Khansaheb - the two Giants of Hindustani Art Music in concert. Buwa's youngest son Pandit Narayan is accompanying on the other Tabla. Buwa's middle son Pandit Madhubuwa is on Tanpura.
Violin is capable of expressing precision, power, agility and a kind of mystical or spiritual beauty. In the hands of a creative musician or a composer it has the ability to convey a deep emotion or a range of emotions imaginatively and intensely. In other words violin is capable of extraordinary lyricism. Violin is THE key string instrument in the Western Classical Music. A western Classical Symphony without a violin is like Valmiki's Ramayan without Rama or Shakespeare's play Hamlet without the character of Hamlet. Symphony is considered the highest form of musical expression in the Western Classical Music. The Raga Sangeet –The Raga Based Musical System – is the highest form of musical expression in the Hindustani Art Music. Pandit Gajananbuwa's greatest achievement was to introduce violin to the world of Hindustani Art Music. Note however that Buwa went well beyond simply introducing Violin to Hindustani Art Music. He was and remains probably the Greatest Violinist in the field of Hindustani Art Music. The entry of violin in Buwa's life was an accident and a happy accident at that for the world of Hindustani Music! Buwa's father the great Antubuwa was a court singer in the small princely state of Aundh in Maharashtra. The prince of Aundh was a culturally refined person. He himself was a KIRTANKAR - कीर्तनकार (A story teller and a singer with the accompaniment of musical instruments. The stories are usually based on religious themes and in the praise of the Gods.) The Prince of Aundh had an old violin that he gave to Antubuwa so that young Gajanan can accompany the Prince in his story telling recitals.Gajanan who was only a young boy obeyed his father and thus started his career as a violinist. Gajananbuwa had no formal training or guidance from any one whatsoever in the technique of using and playing the violin. There was no guidance to him about the intrinsic properties of a violin so that he can make proper use of such properties in his music making. In short Buwa was a totally self trained violinist. He naturally developed his technique to suit the musical material he wanted to present on the violin. What was this material? It was his rich repertoire of Raga Sangeet that consisted of Ragas, compositions (Bandishes) and Gwalior Gharana Gayaki. What other musical material Buwa presented on his violin? Buwa was somewhat conscious of the not-so-good quality of his voice and may have felt that his voice was not adequate to sing the 'feel' of the lighter musical phrases of Murakis or Khatakas to convey the lyricism of non-khyal genres of Hindustani Art Music. Add to that his love and admiration for Bal Gandharva and Master Krishnarao. Is it a surprise then that he found violin to be the best vehicle to play the famous songs from Marathi Musical Theatre and Dhuns (A Dhun in an instrumental mode is equivalent to a Thumri in a vocal mode.) in Ragas Kafi, Khamaj, Mand or Pilu? His semi classical pieces on violin revealed his romantic, playful, lyrical and imaginative musical mind. What he lost in his adolescence by way of his broken voice was at least partially gained by his acquiring a superb mastery of violin. Buwa exploited his proficiency in playing violin with a vengeance! In almost every violin concert Buwa presented at least one Dhun or a Natya Song to the delight of his listeners. But more importantly he fruitfully engaged in exploring the world of semi classical Hindustani Music.
Please listen to Buwa's rendering of Raga Pilu
. What is remarkable is that Gajananbuwa's musical genius as a whole shows his masterful grasp of a wide range of musical genres. In his vocal mode he sang only khyals of the three Gharanas. In his violin playing he created his own compositions and rendered them in his Khyal Gayaki idiom. And he displayed his creativity in the semi classical genres that allowed him a free play of his imagination. In his violin playing his love and mastery of the rhythm (Laya) and Tala gave him sufficient scope to display his aggressive rhythmic work using his forceful and somewhat rough bow work. Is it a wonder that music lovers all over India enjoyed his violin concerts when Ustad Thirkhawa Khan Saheb accompanied Buwa on Tabla. Here was an astounding treat to the music lovers when these two outstanding musicians would be improvising the dazzling magic of rhythmic patterns within the fixed framework of a given Tala! Please check the link below
Buwa's Multani and Khansaheb's Tabla accompaniment.
Despite Buwa's popularity as a violinist and his presence in the numerous concerts and musical conferences all over India, Buwa's true love was his Gayaki in vocal mode. He was the son of a great vocalist Pandit Antubuwa and his ambition was to be equally a great vocalist in his own right and continue the tradition of Antubuwa's Gayaki. He did succeed in fulfilling his ambition. But in addition, thanks to the prince of Aundh's gift of the violin to Buwa, Hindustani Art Music received a precious gift of Gajananbuwa's violin that SANG Classical and semi classical music!
The expression 'singing violin' can be truly and justifiably applied to Buwa's violin.
Pt Gajanarao Joshi plays "Narwar Krishna Samaan".
A striking feature of Gajananbuwa's musicianship is his uncanny ability to reveal the inner soul of a given Raga. It is as if he is 'teaching' or 'explaining' what a given Raga is about. An excellent example of this is his rendering of Raga Bageshree on Violin. Observe or rather listen to the incredible tunefulness of every note, the sweetness of the sound of his violin and the way he develops Bageshree like a magician who lays open the beauty of the melodious Bageshree right in front of you! His handling of each note in the slow Badhat of Bageshree is done with such love and care that only a musician who is in LOVE with the world of SWARAS can present or create a Raga like Buwa does!
--Dattaji and Bacchubhai
Violin Archives
Afternoon Raagas
Shuddha Sarang

Bheempalasi: Teentaal: Sam on Taar Shadja !

Gavati

Gavati

Multani

Multani

Multani

Early Evening Raagas
Shree

Shree

Poorvi



Early Night Raagas
Chhayanat

Chhayanat

Bihag

Kedar

Kedar

Kedar

Shankara

Yaman

Marubihag

Marubihag

Late Night Raagas
Durga

Des

Rageshree

Malkauns

Basant

Bahar

Miya Malhar

Miya Malhar

Chandrakauns

Jog

Adana

Des

Khamaj

Khamaj

Kafi: Teentaal

Tilakkamod

Mishra Pilu

Mishra Pilu

Malkauns

Malkauns

Tilang

Natyapadas
Natyapad: De Hata Sharanagata

Natyapad: Narvar Krishna

Natyapad

Natyapad

Bhairavi
Bhairavi

Bhairavi

Bhairavi

Bhairavi

>>Here are some more Violin performances of Pandit Gajananbuwa