Gajananbuwa a Guru
We give below an excellent article written by Gajananbuwa's disciple Dr Ashok Ranade. Dr Ashok was a polymath: musicologist, scholar, researcher, author, music composer, classical vocalist, teacher and essayist. Bijubhai as we used to address him started learning music from his Guru Gajananbuwa at a tender age of ten. According to Biju's own admission Buwa treated him as his son. Despite being so close to Buwa Biju's article is objective and explains succinctly Buwa as a vocalist,a violinist and a Guru.The article appeared in the annual magazine 'RIYAZ' published by the Shivanand Sangeet Pratishtan'. -- Dattaji and Bacchubhai.
>> Taleem recordings
>> Gajananbuwa a sage like Guru
>> Some of Buwa's noted disciples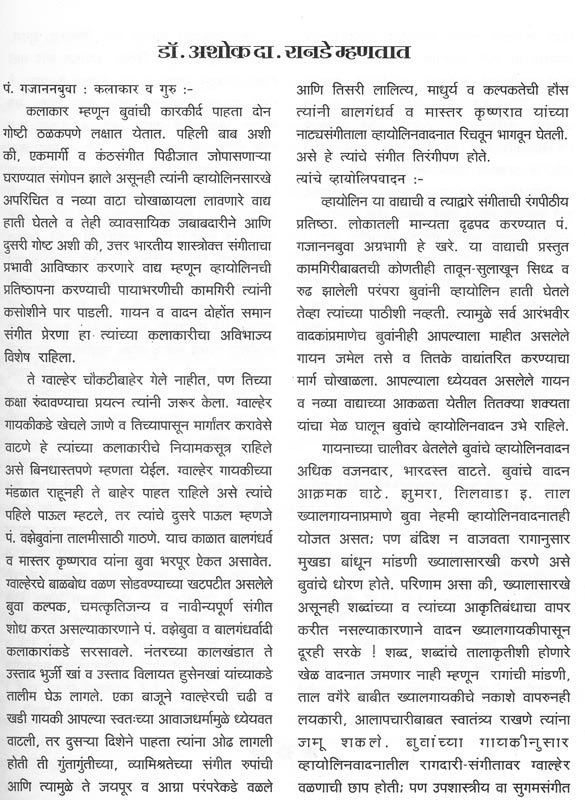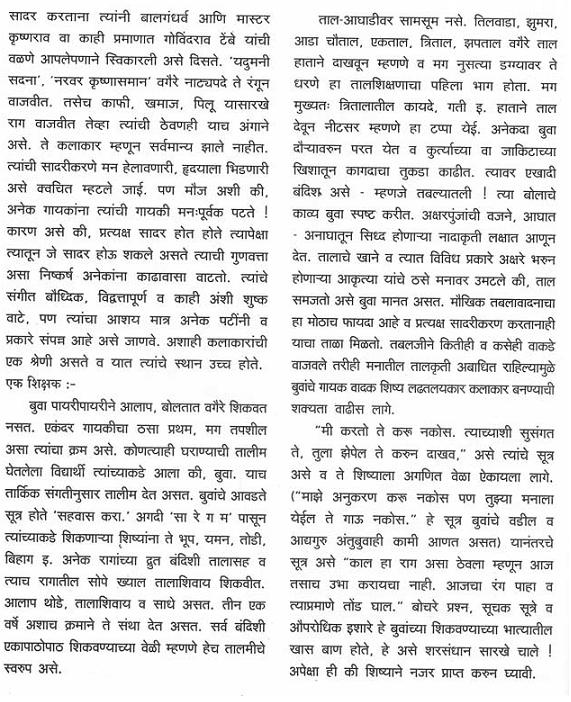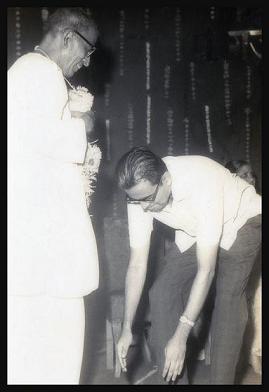 We give below some relevant, interesting and revealing comments made by Gajananbuwa's noted disciple Padmashree Pandit Ulhas Kashalkar. These comments give some insight in Gajananbuwa's Gayaki. The comments are extracted from an article written by Meena Banerjee of Kolkata. The original article appeared in Gajananbuwa's Birth Centenary issue of the Magazine 'Riyaz' published by Swami Shivanand Pratishtan of Dombivali near Mumbai, India. - Dattaji and Bacchubhai.
Pandit Ulhas Kashalkar says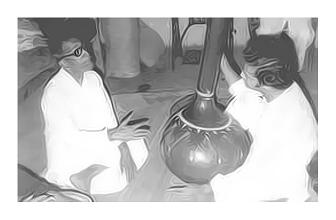 As a Guru, Gajananbuwa was peerless. He demanded total dedication to one's art and despised any sort of compromise. Just as learning was his mission, dissemination of the acquired wealth of knowledge also was another mission of his life." "Though he tasted his first success as a violinist, Guruji held vocalism above instrument playing. There came a phase when, much late in his life, he had stopped giving violin recitals. After a long gap on persistent request by organisers he agreed to play; but only on one condition: he should be given a fortnight's time to prepare for the recital. He went back to his rigorous playing practice sessions and gave a wonderful performance! But his smooth success as a violinist never deterred him from pursuing vocal music. Guruji diligently performed daily riyaaz of the elementary Sa-Re-Ga-Ma- till his last days. His was an exemplary life."
Referring to Buwa's voice, Pandit Ulhas Kashalkar says
"It is true he did not have a great voice - the kind that wins a listener straight away; he did not have the honeyed voice like Pandit D V Paluskar or Pandit Kumar Gandharva, but despite its rather crusty timber it was very Sureela and extremely tuneful. With relentless riyaz he infused such resonance and taasir (emotive appeal) that his singing attracted everyone. I went to train with him in 1975; he was in his mid60s then but even at that age he did his riyaz religiously."
Talking about Buwa's Gayaki, Ulhasji says
"His alap was neither very slow nor played with selected few notes for step by step elaboration like badhat of Kirana Gharana. Following the Gwalior tradition he would simply reveal the raga without much ado and adhere to its undiluted pure structure. Even in heavy ragas like Darbari he would use the full canvas of the raga right from the word go with movements that were layabaddha. Melody and Rhythm remained well knit throughout. Arrival at sam after small phrases added to the thrill. He rarely sought the help of the tihais though while playing violin he liked to do so. Sargams did not feature in his singing at all but while teaching he would expertly sing sargams to explain the note combinations of fast running tans for the benefit of his disciples to follow the patterns easily. Since he acquired raga-vidya from several gharanas and since gharna's novel characteristics come to the fore by remaining focused only on some of the khyal-angas, he assembled each of these to highlight all the ashta-angas (eight elements) of khyal vocalism in his gayaki with superb ingenuity."
Morning Raagas
Jaunpuri: Kaun Rijhavan

Jaunpuri: Ab Rang Ghuliya (Antara)

Bhairav

Bhairav: Tori Bari Phooli

Bibhas: Sargam and Khayal

Bibhas: Albelo Mero

Miya ki Todi: Sargam

Miya ki Todi: Bajo Re

Deskar: Hu To Tore Karan

Deskar: Howan Lage

Deskar: Jago Jago Mohan

Alhaiya Bilawal

Alhaiya Bilawal

Afternoon Raagas
GaudSarang: Pati Jhargainya

GaudSarang: Pati Jhargainya

Bheempalasi: Sargam in Tilwada and Dholan Mende

Bheempalasi

Bheempalasi: Guniyan So

Bheempalasi: Guniyan So & Ram Rasiya (Tilwada)

Bheempalasi

Early Evening Raagas
Purvi: Piyarwa Ke

Purvi: Mai To Na Jaoon (Jhoomra)

Shree

Shree: Wari Jaoon Re

Gauri: Bhor Bhai Aaye

Gauri

Marwa

Marwa: Sargam and Laagi Lagan

Multani

Purbha

Purbha: Re Man Tu

LalitaGauri: Preetam Saiya

LalitaGauri

Jaitashri: Bhaj Man Ram

Jaitashri: Sargam in Teentaal

Jaitashri: Jab Te Piyu

Jaitashri

Early Night Raagas
Yaman: Kaise Ghar Jaoon (Teentaal)

Yaman: Kahe Sakhi Kaise Ke

Bhoop: Sargam

Bhoop: Aaj Moundal Baje

Bhoop

Bhoop: Jabhi Sab Nirpat

Bhoop: Ri Ta Nu

Bhoop: Jhanj Mandilara

Hameer

Hameer: Sargam

Hameer: Sun sun re

Shuddha Kalyan: Piya Bin Dekhe (Tilwada)

Shuddha Kalyan

Kamod: Jane Na Dungi

Kamod: Tore Darbar

Kedar: Sargam in Tilwada

Kamod: Tore Darbar

Kedar: Jogi (Tilwada)

Kedar: Sa ReSa Ma !

Hemkalyan: Daiya Ri Mai Kaise

Jayat Kalyan: Papiha Na Bole

Tilang: Hari Ke Bhajan Bin (Jhaptaal)

Tilang

Bihag

Savani: Dev Dev

Kavval Bacchon Ka Chhayanat

Bihag

Bihagda: Pyari Pag Hole

Savani: Dev Dev

MaruBihag: Jage Mere Bhag

MaruBihag

SurMalhar: Chamke (Tilwada)

SurMalhar: Chamke & Garaj Garaj Ghan

Puriya: Sughar Bana

Puriya: Sughar Bana

Durga: More Gharwa

Des: Sakhi Ghan Garjat Ati Ghora

Nat Kamod: Javori

Nat Kamod: Newar Bajo

Late Night Raagas
Shankara

Jog

GaudMalhar: Balma Bahar Aayi (Teentaal)

Bahar

Basant: Chalan in sargam

Basanti Kedar: Atar Sugandh

Patmanjari: Mori Aakhan Me

Patmanjari: Mori Aakhan Me

Gara Kanada: BaaramBaar

Malkauns

Malkauns: Daya Karo & Payaliya Baje

Malkauns

Sampoorna Malkauns: Baraj Rahi

Darbari Kanada: Hazrat (Jhoomra)

Jaijaiwanti: Payal Baje (Jhaptaal)

Jaijaiwanti: Payal Baje (Jhaptaal)

Kankan: Pt Ramkrishnabuwa Vaze taught this rarely heard Raag to Gajananbuwa.

Kankan

Nayaki Kanada: Mora Re

Rayasa Kanada: Man Mohalino (Teentaal)

Darbari Kanada: Sargam

Darbari Kanada: Dulhan Teri

Bageshree Kanada: Yeho War

Kaushi Kanada: Naiya Mori

Megh: Garaj Ghata

Megh

Gajananbuwa a sage like Guru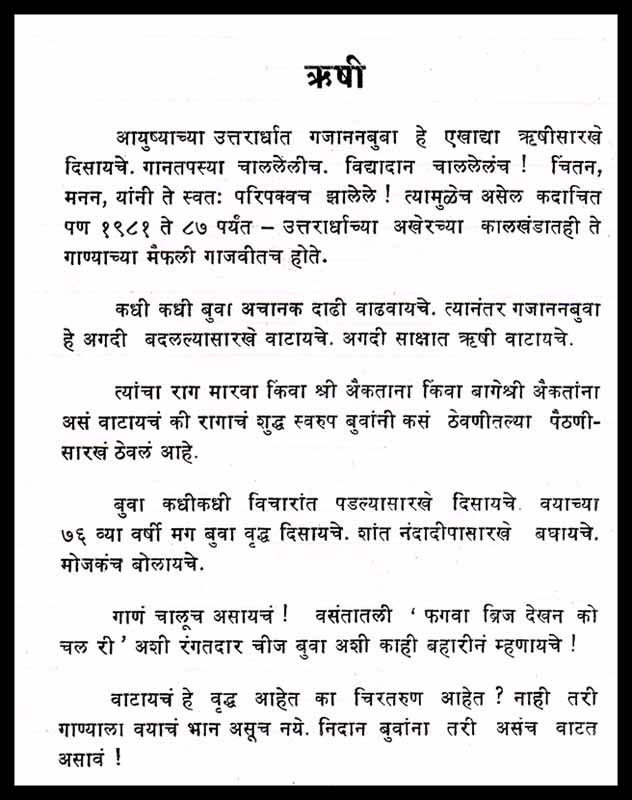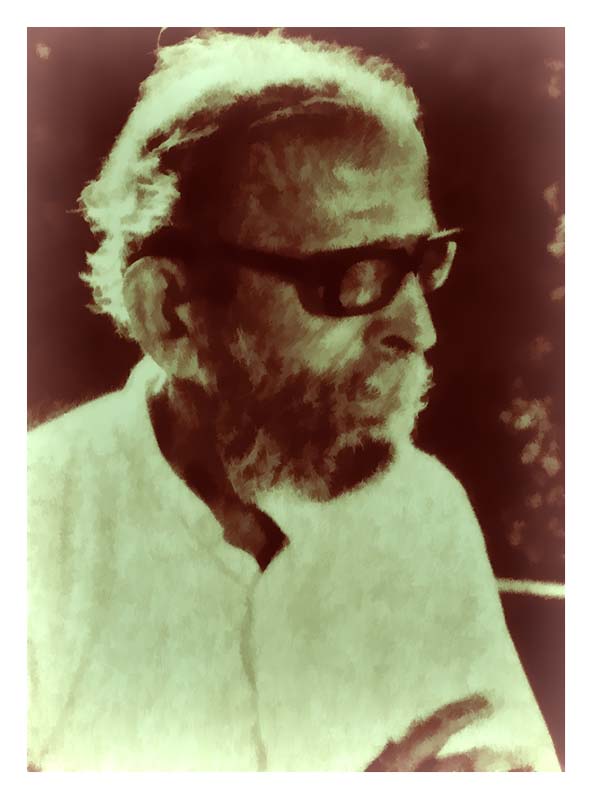 Original Photo from Riyaz- The annual Magazine published by Shivanand Swami Sangeet Pratishthan Photo- Painting by Dattaji.
>>Gajananbuwa Teaches his disciples
Some of Buwa's noted disciples
| Violinists | Vocalists |
| --- | --- |
| Shreedhar Parsekar, Gajanan Karnad. | Padmashree Ulhas Kashalkar, Arun Kashalkar, Jayashree Patnekar, Padma Talwalkar, Shubhada Paradkar, Kaushalya Manjeshwar, Dr. Vikas Kashalkar, Veena Sahasrabuddhe, Shaila Datar, Kunda Weling, Dr. Ashok Ranade, Buwa's son Madhukar Joshi, Buwa's daughter Sucheta Bidkar and Buwa's granddaughters Pallavi Joshi and Apoorva Gokhale. |