Discography & Publications
List of Gajananbuwa's published articles, recordings and books.
Discography
Published by All India Radio, 2011 Malgunji (Violin), Pradeepaki, ChaitaGunakali, Hemnat
Gajananrao Joshi: Gwalior Gharana - The Heritage HMV's Gharana Series. Cat No. STC-850610 Ragas Bhimpalas, Shree, BasantBahar, Bhairavi
Pandit Gajananrao Joshi (Autobiography and Violin Gats) by Waman Ketkar.

| | |
| --- | --- |
| 78 rpmRaag Todi: HMV 15911, OMK 4213 | 78 rpm Raag Kafi: HMV 15911, OMK 4215 |
Articles Books on Pandit Gajananrao Joshi
Putra Whava Aisa (Biography of Pt Gajananrao Joshi) by Dr. Sucheta Bidkar (daughter)
Violin: Tantra Aur Mantra (Violin technique & Style) by Dr. Sucheta Bidkar
Pandit Anant Manohar Joshi's work
Sangeet Pravesh Part I, II, III - 1921
Harmonium Delighter Part I, II - 1924
Mi "Anant" Swaryogi (Autobiography) - Published in Rudravani May-June 1995
"Bowing the Vocal Chords" by Manasi Joshi-Singh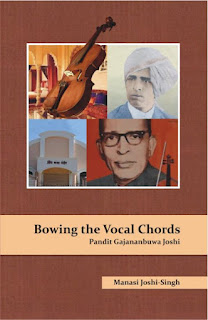 "Bowing the Vocal Chords - Pandit Gajananbuwa Joshi"
His life and work in the form of a book in English
Author: Manasi Joshi-Singh
Published on Sept 21, 2012 at Bloomington Normal, Illinois, USA.